Dec 20 Samurai Champloo a new record
The Stockrooms closed and everyones brought out the champaign for the end of year breakup Xmas party, I thought I better write this up since Ive had a few and ill start yelling at company managers to pull their head in soon

"eyecandy".
Any one else get Hay fever or is it just me, I never used to but its starting to kill me, or it could just be the Jack Daniels I have right now, we will never know. It takes me an hour to do these things, lets see how wasted I am by the finish.
Bleach – NC* $29.75
Kurozuka – ↑ 4.½ $22.0 total
Naruto – ↑ 0.¾ $37.0 total
Soul Eater – NC* $37.50 total
Samurai Champloo – ↑ 15.0 $45.0 total
Jigoku Shoujo Mitsuganae – ↓ 2.½ $20.50 total
Gankutsuou – ↑ 2.¼ $33.0 total
Ergo Proxy – NEW* ↑ 2.0 $32.0 total
Bleach ( BL) e199 – Editors note* Rage descends upon me when company directors feel the need to brake from the business plan, further more so when the FCC goes and sticks there dick in as well, even if just a little bit. Why would you censor the underboob but allow someone to be impaled? Why would you turn Nemu pail white when she was meant sucked dry to a skeleton, just like when you play with 30ft spiders. Why do you take all the little amounts of awesome bleach has left and shit it into oblivion?! The only thing countering this weeks faggotry was Nemu again. Not sure why, probably because she is one of the hottest bleach girls beside Matsumoto and Yoruichi. That captains poison was a total plot hax as well and poorly explained. They even censored the badguy getting stabbed in the heart. NC* on bleach this week staying on $29.75 a share.

"EVEN MORE SCREEN TIME, NOW! "
Kurozuka (Kzka) e10 – Stock holders rejoice, ANSWERS AND PLOT FOR EVREYONE! Besides the bondage and aids infected blood, the psycho girlfriend is now in cahoots with the bad guys and is cheating on kuro with the clone of that dude thats good with the guns but scared of beetles, IT ALL MAKES SENCE NOW! Did I mention that she now cuts his head off every 100 years and sticks it to the corps of some other dude? I guess theres a niche market for that somewhere. Up 4.50 to $22.0 share. It just feels good to have closure.

"Pointless nakedism".
Naruto (Nar) e089 – Naruto makes a new "unfinished" supermove that he can no longer use or he dies... Didn't see that coming. Nar raised $0.75 to $37.0 this week thanks to Kakashi coldly finishing an enemy off, he was as good as dead anyway, so that made it awesome. The rest of the eap focused on closure as the company decided to move in a new direction chasing after Saski again, although Kuboto and Orichamru are two good players in every shareholders books, Saski needs to grow a pair and fuck off somewhere. Take your emo with you as well.

"nice boots".
Soul Eater (Ser) e35-e36 – No subs? A shocking delivery from soul eater at the end of this fiscal quarter. Investor demand to see more blare is the only thing keeping this fiasco braking even.

"text braker, also enforces my point bleach".
Samurai Champloo (SaiCha) – e01-e18 – up $15, no shit, thats fifteen right there. This stuff is better than a hundred naked Jessica Alba / Beil's smothered in high price executive cocaine. This baby should be called "Tengen Toppa Shigurui trigun guran laggan", but without the love and peace. I myself wont bother to try and sell you this, as I cant explain it as awesome as it should be. Ill ask sensei to do that later, hes pro. Never the less the stock market nearly crashed as everyone withdrew their savings and rocketed wads of $100 notes at Manglobe. I myself included. Samurai Champloo now rests on $45 a share.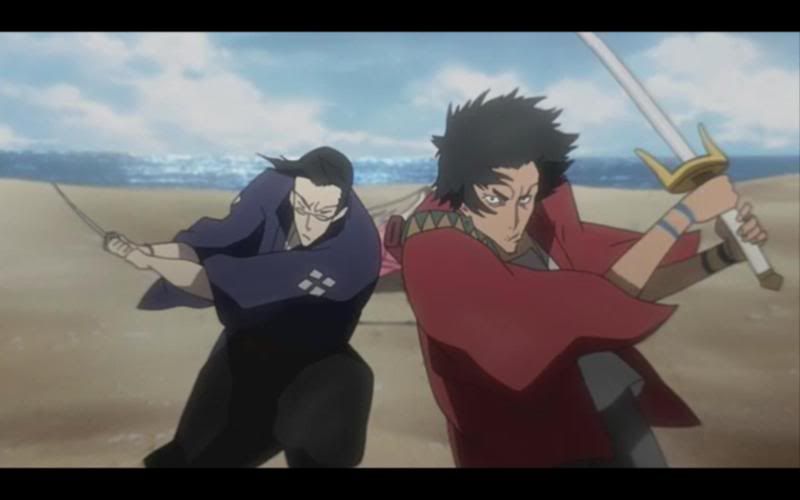 "Fucked, so fucking fucked."
Jigoku Shoujo Mitsuganae (JkuSM) – No subs, no nothing. Listen up Shoujo, you were good, but not that good, If you think you can dick around for weeks at a time and not deliver on what your company was invented to do, Then I'm Pulling out. I and every other investor wants there 10e back now you useless bitch. Hellgirl my ass, why dont you go to hell on my balls. *Editors Note. I hate waiting and making other people wait, it feels like a kuni to the back of the face. The new season of Jigoku Shoujo has only realy delivered on new loli and a different transformation scene. Episodic Viewing is a relic of a bygone age and has become its pitfall of anime in totality. The reason animu is the be all and end all in the telling of a tale is because it has an end. Sure a story that goes on on for ever can be ok, but it slowly becomes tired and then forgotten, you can leave it for a year and come back but its still the same at the end of every episode, still has the same status quo. I for one find that worse than death. Down $2.50 a share.

"more champloo, watch that scene, its hilarious"
Gankutsuou (GaKu)e06-e12 – Further confirming the counts kickassery and epic top hat, Gankutsuou rises $2.25 a share this week thanks to his determination to get revenge in the most awesome way ever. Investors are still not quite sure how yet but every eap he seems to be pulling strings from behind and mind blowing people wherever he can while still holding his charm in front of everyone, an amazing feet as he managed to dig up the corpse of a bastard baby and present it to its adulterous mother for the finish of an epic game of "find the oldest and most haunted room in this mantion of hell". Did I mention his top hat? It makes Slash look like a girl scout. Gankutsuou is now $33 a share.

"Its getting good."
Ergo Proxy (Eprxy)e03-e10 – This stuff is deep. Proxy figths are cool too. Eprxy managed to jump $2 a share on pure intrigue and Pino alone. On a side note Re-L has managed to pwn in the shareholders pants globally.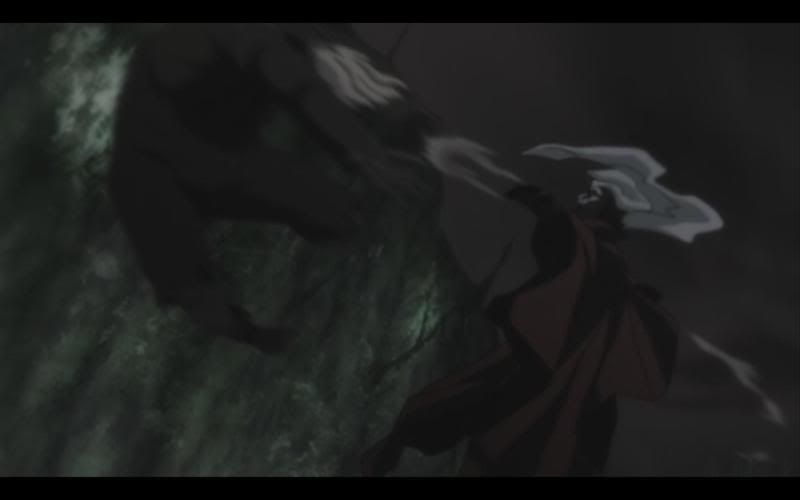 "best pimp slap Ive seen..."
If im a self hating jew, does that make me anti semitic?