Dec 5 Artfag is the new Aristocrat
New Company this week while others fail. I on the other hand drink fine imported sake and lulz down upon everyone.

"My room, true story".
The rundown for the week. Since I have nothing better to say here, I was thinking we might put something insightful in these spaces, or classy/tasteful Yuri porn perhaps, your call.
Bleach - NC* $24.75
Kurozuka - ↓ 6.½ $17.50 total
Naruto - ↑ 4.¾ $34.50 total
Soul Eater - ↑ 3.½ $35.50 total
Seto no Hanayome Jin - Dropped $25.0 total
Jigoku Shoujo Mitsuganae - NC* $23.0 total
Gankutsuou (GaKu) – NEW* START ON $25 $25.0 total
Bleach ( BL) – http://www.tokyotosho.com/ and http://www.baka-updates.com have both failed the market this week posting a torrent that when left for 3 days downloads nothing. If any investors can help this stock market watchdog get his hands on a black market copy it would be much appreciated. On another note DB and all other late subers can go to hell, what do you think the "Financial Time" news paper would do if they got dicked around like this? Brake a bottle of $300 champaign inside someones ass, that what.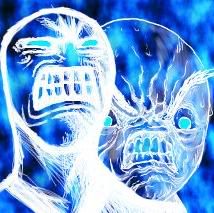 "The rage was bigger and more red colored "
Kurozuka (Kzka) e08 – "Are you serious?" 11 minutes and 21seconds, from the beginning, they talk about nothing but 3 day old "Faeces". Shit it tell you, Just shit! He actually spent two minutes in slow walk, no narration or thoughts, carting a shopping bag full of 3 day old runny cripple crap to a river. What the Fuck here people?! I have debtors who are going to declare bankruptcy and purge fast because of this. After gaining composure, the show really started after vine girl showed up, I felt a twang of epic as they stopped mid battle to act out a scene of what happened to some dead guy but as soon as people started to warm up to said vine girl, psycho bitch manages to teleport in and chokes everyone to death then leaves again giving another stupid quest to find some castle. Stockholders worldwide Raged. Kurozuka dropped $6.50 crashing to $17.50 a share.

"epic turd maneuver".
Naruto (Nar) e086-087 – A well needed double eap this week. Truth be told, I take back whatever I said about Shikamaru. He is now the only person in the whole company who is finally, a real ninja. Balls to the wall, he took out a knife and half cut someones head off. No stupid super move that always fails, no smoke or dust that clouds vision, plane as day knife to neck combo. It seems my telepathic hate thoughts have hit Naruto company officials in the face and decided to to do something real ninjas did. Up $4.75 to $34.50 a share for this one simple act. If every ninja did this Naruto would soon gain the monopoly due to the amount of people there to be killed.

"Oh snap, someone used a knife what its meant for".
Soul Eater (Ser) e34 – Its good to see open war in a singular/team character based show, not just the same old same old,where the usual heroes go forth and smite every unnamed henchman's face against a rock with no loss of their own. I'm talking armies of people fighting, where each person is an equal and not so easily brushed aside. I find it heart warming where the bad guys, who are often way more badass over all, get to ruin the good guys shit. Think back, try and remember when the last time the enemy's laid an ambush, and it worked. Mifune's appearance made stocks rise granted his situation, (if you really think about it you will realize how awesome it is), where he, a samurai, was chasing a zombie armed with a musket powered crossbow that could burrow through snow like a champion, pausing only in the action after he fired a thousand katana's out of his golf bag at him while falling off a cliff. Arachne and her love udders are always a welcome boost while an exciting plot thickens as it seems Mr shinigami kun is the badguy all along. Soul eater up $3.50 to rest on $35.50 a share.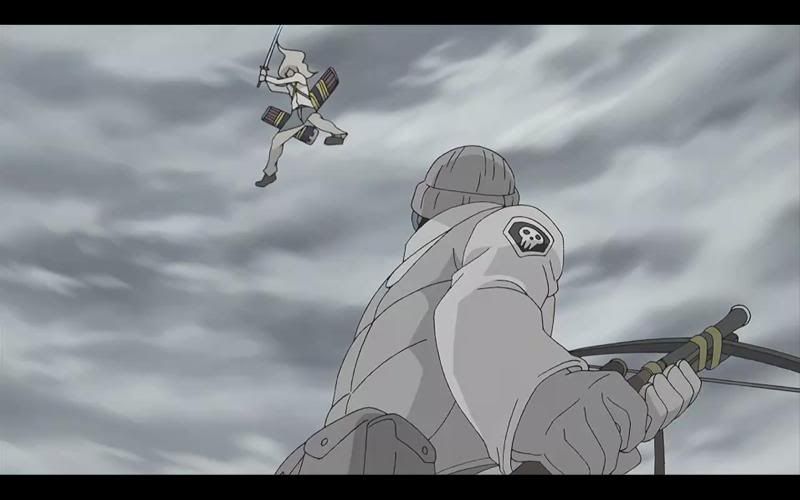 "Come to think of it, that crossmusket/gunbow is a babe as well.".
Seto no Hanayome Jin (SHJin) – Dropped, the first company to go under due to lack of funds. Staff were pawned off and their product has run out. Die hard investors hoping later down the track new OVAs will keep the legend alive but all available freelance artists are hands down for the new Hellsing OVA. Times are tough in this depression.

"click view image for the hotness also, since when do fish have a knee?"
Jigoku Shoujo Mitsuganae (JkuSM) – No change as product was only released to spain this week, but with an episodic nature, no story line was lost and it holds its niche in the market at $23.0 a share. Come home soon Hellgirl.

"filler"
Gankutsuou (GaKu)e01-03 – NEW* A new player this week, 2 episodes in and it feels like I'm tripping balls by just watching it. Working off master crayons wise words, "Theres no such thing as a bad premise for a story, as long as its pulled off really well", I invested 5 episodes into Gankutsuou and by number 2 ,I realized I was watching. A story about the son of a general who made friends with the count of Monte Cristo who is a blue space vampire zombie after an opera where that French aristocrats enjoyed Mardi Gras carnival on the back of the moon, with bandits. Theres more to it that that but its all I could fit in one sentence. With just enough ecchi combined with awesome character designs (based on whats been presented lately) buyers have snapped up this company's idea and brought it out on $25 starting. Word of warning, don't drink before you watch Gankutsuou, your brains will fall from your ears if you do. (insiders joke har har har) I hope I can get clothes like that in the future too.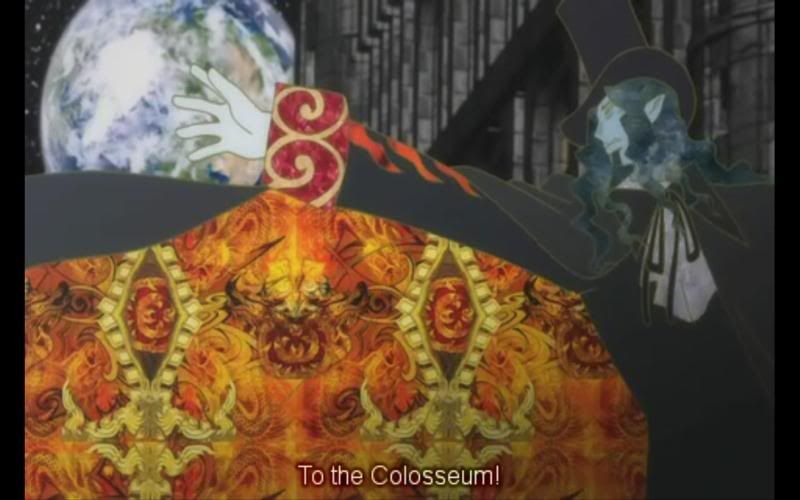 "Is dat sum rosen maiden interstellar 55555"
"My friend Mark said that he saw a ninja totally uppercut some kid just because the kid opened a window."